Have you ever wondered how the Queen always looks so elegant and majestic? This beautiful book "Dressing the Queen" tells the story of the Queen's royal wardrobe. The author is Angela Kelly, Personal Assistant, Advisor, and Curator to the Queen.
Angela Kelly is often described as the "Queen's Gatekeeper." The daughter of a Liverpool dockworker, she served in the Army before joining the royal household as a maid. Divorced and twenty-five years younger than the Queen, she has become a confidante to the Queen. She has been the Queen's personal assistant since 2002 and is one of the few people who can lay hands on the Queen. As for handling the Queen's wardrobe, she has a meticulous eye for detail and understands the Queen needs to wear something that sets her apart from the crowd. She plans the Queen's official and private wardrobes and is the curator of Her Majesty's personal jewelry collection.
The Queen's wardrobe is planned months in advance. Wardrobe diaries are kept with the details of the outfit and events at which it was worn and it takes a Logistics Team (handled like a military operation) to handle the packing and transportation of her luggage when traveling
Stewart Parvin is the Queen's royal dress designer and has worked with her since 2000. He choses fabrics that do not crease and are fully lined so that they don't. Day dresses are designed to stop just below the knee. Cocktail dresses are just below the knee or ballerina length. On the day of an event, the outfit will be laid out with a handbag, gloves, shoes, and a hat. A matching headscarf will also be added, just in case the hat gets wet in the rain.
The Queen favors dresses/suits over skirts and blouses. She can't be bothered adjusting a blouse that may have come untucked when exiting a car. Her trademark is monochromatic color with matching coat and hat and her signature style of suits/dresses (with weighted hemlines) has withstood the test of time.
When the Queen steps out in public, she's usually wearing a hat designed by
Rachel Trevor-Morgan
. Ms Morgan has been the Queen's milliner since 2006. The crown of her hat can be higher and sharply angled so that everyone can easily see Her Majesty but not so high as to cause a problem getting in and out of the car. Of course, no hats after 6pm...but a headpiece or a tiara is de rigueur at a state event.
The Queen has an
umbrella
to match every single one of her outfits...transparent (so everyone can still see her) with a colored handle and edged trim coordinated to match the color of her outfit.
Of course, now I need umbrellas to coordinate with my outfits!
The Queen's handbag of choice? A
Launer Bag
. She owns more than 200 of them! As one would expect, her bags are bespoke with a longer handle and black appears to be her go-to color. Rumor is that she uses her handbag to signal her staff when they need to intervene on her behalf. Her Ladies-in-Waiting carry her necessities such as extra stockings, medicine, band-aids, etc. The Queen carries lipstick, a mirror, reading glasses, and mints. She only carries cash on Sundays...to place in the collection plate on Sunday.
Gloves are a staple of the Queen's iconic style. Forget everything I have ever told you about glove etiquette. The Queen ALWAYS wears gloves. You cannot wear them all the time. She can. She is the Queen of England.
Since 1947 Genevieve Lawson's family,
Cornelia James
has been the Queen's official glove maker. She first wore their gloves on her wedding day in 1947. Since the Queen shakes approximately 45,000 hands per year, hand gloves are needed to protect her hands from dirt and damage while shaking hands all day. She loves the classic-style gloves, wears only black or white, cotton and nylon, and they must be washable.
Also forget everything you have heard about handshaking etiquette. When greeting the Queen, the rules are different. You never extend your hand to the Queen. When she extends her hand, a simple touch is all that is done...no shaking, squeezing, or patting with the other hand. FYI,
Just in case you ever meet the Queen
.
The Queen's swoon-worthy collection of brooches is every girls dream! She has taken the old-fashioned brooch and made it a must-have accessory. You can view tons of them on
Pinterest
, all stunningly beautiful and truly made for a Queen. My favorite? The Flower Basket (shown in the photo below). I think it is exquisite and oh-so prissy! And...I adore this photo of the Queen. It reminds me of my mama...the hairstyle and the outfit.
Not to mention the lovely three-strand pearls!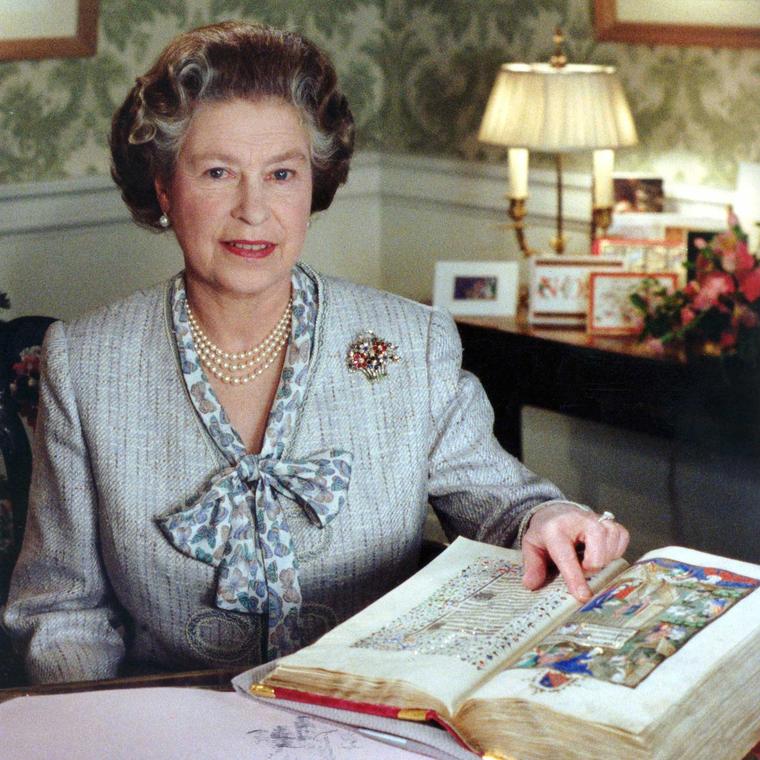 What shoes does the Queen wear? She has worn the same Anello and Davide pumps for over 50 years. The Queen spends all day on her feet and can't exactly walk around complaining that "her shoes are killing her feet,"
now can she
? What is one to do? Well, she has a servant to "wear in" her shoes! Yes ma'am! You KNOW that is NOT a rumor.
Oh, to be the Queen
.
The Queen is a wonderful example of aging gracefully. You can see from her photos through the years that she did not color her hair. "Gray hair is a crown of glory; it is attained along the path of righteousness." Proverbs 16:31
Bright colors, soft makeup, being well-groomed, and apparently an excellent skincare routine have kept her youthful for her age. God Save the Queen!
Thank you for visiting with me today. Tomorrow I will share an afternoon tea setting to celebrate National Afternoon Tea week in the U.K.