Onion soups have been popular throughout history. They were seen as food for poor people, as onions were plentiful and easy to grow. French Onion Soup became famous in the 18th century with the opening of the gigantic food market Les Halles de Paris. At dawn, workers and night owls sat together around a fragrant, yet cheap bowl of this delicious and heartwarming dish, made from beef broth, caramelized onions, a large bread slice, and grated and grilled Gruyere cheese. The first bowls to get reinvigorated, the second bowls to avoid any hangover.
Soupe a' l'oignon
(onion soup) has always been Paris's timeless hangover cure!
The "French" in "French Onion Soup" refers to the manner in which the onions are chopped ("frenched")--cut into thin lengthwise strips.
Personally, I would never serve this soup to guests at a dinner party. Nor would I order this soup in restaurant. (Even though most restaurants in my small town serve it as a beef broth, with chopped onions, croutons, and shredded cheese, toasted). If prepared correctly, it is just too difficult to break through the layer of cheese and maneuver your way through this gooey delight. It lives up to its reputation as "one of the most difficult foods to eat."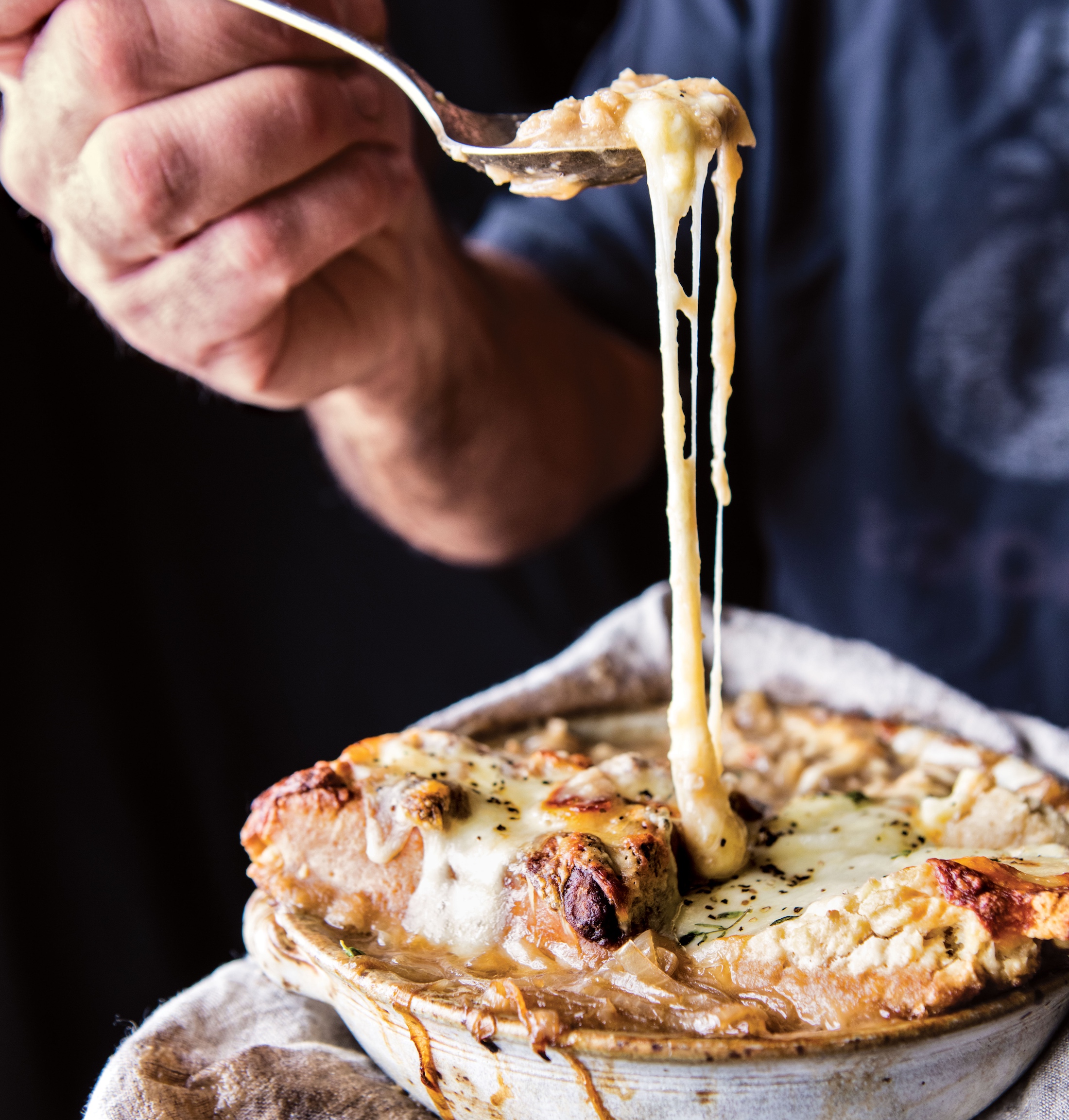 Although healthier than a creamy soup, the bread and melted cheese in this soup has lots of saturated fat, refined carbs, and a high sodium count.
So there's another reason I wouldn't order this...I don't want my cheat meal to be difficult to eat.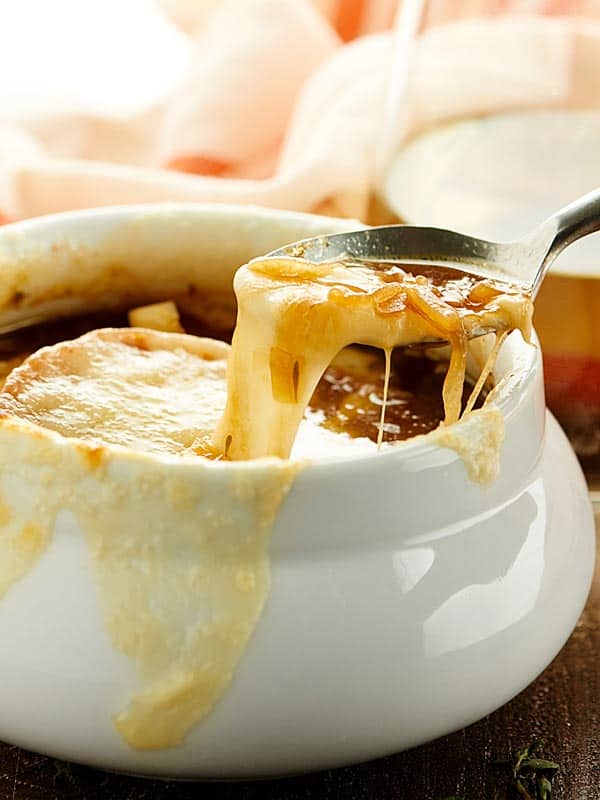 So, how do you eat French Onion Soup? One of my etiquette teachers, Dorothea Johnson, suggests using a soup spoon to eat the soup, and a knife and fork to cut the cheese on the rim of the soup cup so that it does not trail from the mouth in a long string. Don't mess with the cheese baked on the outside of the bowl.
Lord have mercy, I'm not going to be using a knife and fork to eat soup!
Still interested in serving this soup? Here's a recipe for you:
FRENCH ONION SOUP
1/3 cup olive oil
8 sliced onions
2 cloves minced garlic
2 tablespoons flour
8 cups beef stock
1/4 cup dry white wine
1/2 teaspoon dried thyme
1 bay leaf
1 loaf French bread
2 cups grated Gruyere cheese

Sauté onions and garlic in oil over low heat until onions are tender and golden yellow. Sprinkle flour over onions, cook a few minutes more, browning the flour well. Add stock and wine and bring to a boil, add thyme and bay leaf. Reduce heat, cover, and simmer gently for 20 minutes or so. Add salt and pepper to taste.
Meanwhile, slice French bread into 3/4 slices and butter both sides. Toast slices on griddle until golden brown. Ladle soup into an ovenproof bowl, add toasted bread and cover with cheese. Place ovenproof bowl on a baking sheet lined with tin foil. Bake at 350 °F or 5 minutes under a hot broiler.