The Lady-in-Waiting role dates back centuries and every Queen or Princess in a royal family has had one. Diana, Princess of Wales had eight. Anne, Princess Royal, has eleven. Camilla, Duchess of Cornwall, has three. Sophie, Countess of Wessex, has one. With a busy schedule and a strict daily routine, Queen Elizabeth II needs all the help she can get and she has nine Ladies-in-Waiting!
The Queen's Senior Lady-in Waiting and Mistress of the Robes, Fortune Fitzroy, is only needed for ceremonial occasions. The other eight are in regular attendance. The Mistress of the Robes is a lot like a personal stylist. She is responsible for the Queen's wardrobe and jewelry. She is also in charge of the other Ladies-in-Waiting and their schedules and duties. The Woman of the Bedchamber is the Queen's right-hand woman. She has the most up-close and personal responsibilities. It is her job to help the Queen dress and undress, as well as to help her take a bath.

The Ladies-in-Waiting are considered the Queen's best friends (Her Majesty's A-Team) and help their mistress collect flowers at events, attend to private and personal matters, run all her errands, and handle general correspondence. Not all of the ladies are of noble birth but are all well-off financially and have shared interests, inbred caution, and are etiquette savvy. They are unpaid but do receive room and board in the royal London residence as well as a clothing and travel allowance. They are friends for life with the Queen and they NEVER retire.
Meet some of the ladies:
Diana Baroness Farnham, Lady of the Bedchamber
The Hon. Mary Anne Morrison, Woman of the Bedchamber
Lady Susan Hussey, Woman of the Bedchamber
Fortune Fitzroy, Mistress of the Robes, Dowager Duchess of Crafton, Sr. Lady-in-Waiting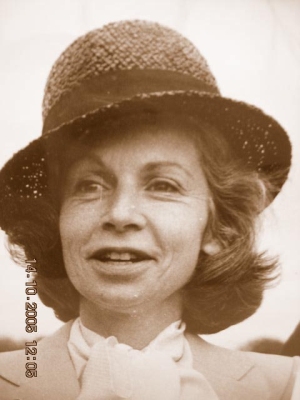 Virginia Fortune Ryan Ogilvy, Countess of Airlie, Lady of the Bedchamber since 1973


The Hon. Annabel Whitehead, Lady-in-Waiting
There are three other Ladies-in-Waiting to the Queen: Philippa de Pass, Jennifer Gibbs, and Richenda Elton. (They are internet-shy).

If you wondering about Kate Middleton...she has only one Lady-in-Waiting (aka her Right-Hand Woman/Personal Assistant/Modern-Day Lady-in-Waiting), Catherine Quinn.


I truly missed my calling! Lady-in-Waiting (well, old-school style) sounds exciting to me! This new modern-day assistant thing, notsomuch.

Thank you for visiting with me today. I will be back tomorrow to talk about the Queen's fashion.